8 Romantic Home Decor Ideas That Are Anything but Cheesy
Posted on February 15 2019
8 Romantic Home Decor Ideas That Are Anything but Cheesy
Oh! Trendy takes no credit for this article and only reposts to help circulate knowledge, ideas, and creatively to more people.
Long-stemmed roses, red table linens, an expensive tasting menu at a stuffy French restaurant: There's nothing inherently wrong with partaking in these Valentine's Day clichés. But if you've opted to stay in this year in favor of a low-key celebration, how can you make your humble abode feel romantic without veering into the cheesy lane?
We asked design experts for their most tasteful tips for bringing that lovin' feeling into your home. Here are the eight best ways to decorate for this heart-themed holiday.
1. Chat up a florist
Photo by Maureen Stevens Design 
That's right—have a conversation with someone who lives and breathes gorgeous blooms. You know roses sell for top dollar this time of year, so to save some cash (and avoid being totally on the nose) steer clear of this obvious choice and pick something sentimental in an unexpected color.
Julie Coraccio, a professional organizer with Reawaken Your Brilliance, recommends fragrant lilies or wildflowers.
"Find something that looks like you picked it from your yard and has a carefree sense," she says.
2. Stash the mess
Pick up the pants, socks, and other items on the floor—especially in the bedroom—because there's nothing like clutter to really crush a romantic vibe. If you're short on time and want to make your house appear spotless, you can corral laundry in the hamper, stack books neatly on a shelf, and run the vacuum over the rug.
3. Layer the candlelight
Tall tapers are classic, but they tend to look a little stuffy. Plus, while some claim to be dripless, others look like a hot mess after a few minutes and can end up marring your table with wax.
The fix? A low-slung arrangement of thick pillars, or a line of small tea lights down the middle of your table.
Coraccio likes to use a variety of shapes and sizes, as it sets a romantic scene and serves as a nice backdrop. Arrange them in a tray or on glass pillars, and add fresh rosemary or eucalyptus between each one.
4. Skip red and pink decor
Photo by gosto design & lifestyle
Just as red and green decorations during Christmas are expected (and sometimes dreaded), adorning your home with cloying rosy colors for Valentine's Day is sort of a turnoff. Instead, embrace your and your partner's favorite shades for your table settings.
5. Set a proper table
Get out the silverware and your prettiest plates—and by all means, use cloth napkins.
Karen Gray-Plaisted of Design Solutions KGP likes patterned napkinswith large-print flowers because they're trending now. Linens with embroidery always feel special and not over-the-top. Or look to natural fabrics such as jute or a soft burlap.
As for a centerpiece, Andrea Correale, a caterer and founder of Elegant Affairs, recommends a monochromatic approach.
"For a romantic, stylish design, use one type of flower and create full, tight arrangements in small vases," she says.
6. Add a fragrance
Once you've tidied up, light a scented candle or set up a diffuser. While some fragrances are overtly sensual (amber and vanilla come to mind), Coraccio recommends trying something unexpected like lavender, jasmine, or cinnamon.
You can also skip the pricey candles and make your own fragrance.
"I love to simmer apple cider with cinnamon and cloves on the stove for a warm, delicious scent," says Correale.
7. Build a fire
A crackling fire on a chilly winter night is the height of romance. If you're lucky enough to have a fireplace in your home, Gray-Plaisted recommends placing a coffee table by it as a place where you and your loved one can gather for a game of Scrabble, a homemade cocktail, or a quiet conversation.
8. Play mood music, and turn off the TV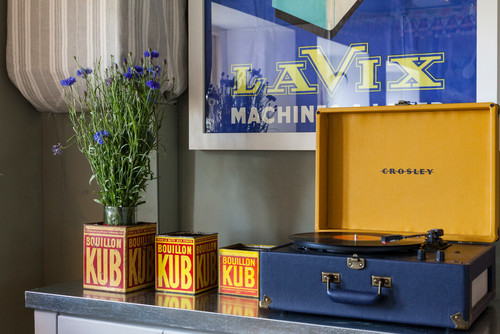 Don't forget music to complement your tastefully romantic home.
"The Pink Martini channel on Pandora is my top pick," says Correale. Soft jazz or the Your Favorite Coffeehouse playlist on Spotify will also do.
But whatever you do, nix the telly. Leaving the TV on will kill any chance you'll have at romance this Valentine's Day.